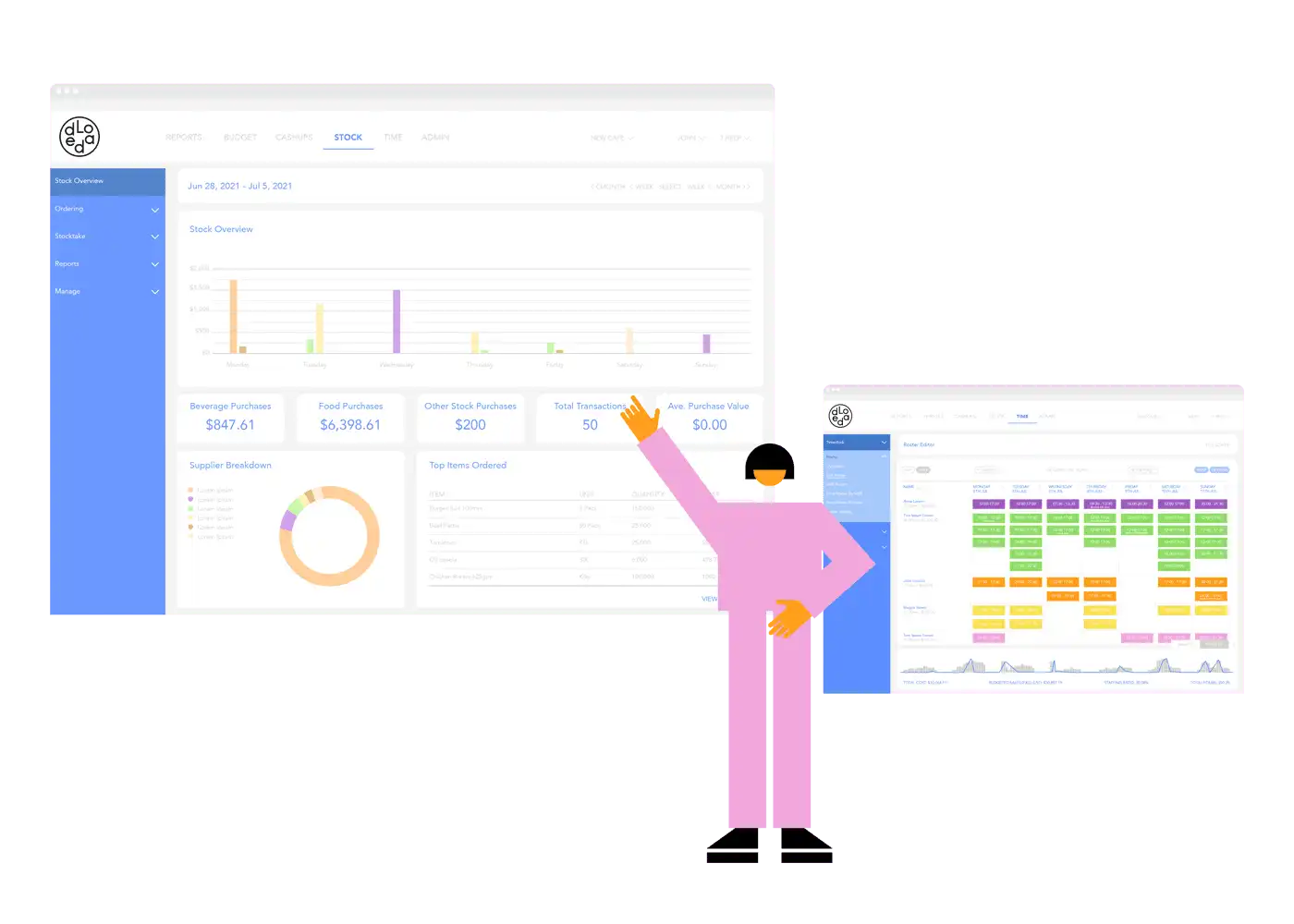 The correct pricing of your recipes and menu items at your restaurant or cafe can be the difference between business success and failure. If you price dishes too high, customers won't become return clientele and when you price dishes too low, you won't generate enough marginal revenue to cover your expenses.
Lucky for you, we're experts in food costing and have built our food costing software to help you control these costs easily. Loaded's simple-to-use reporting allows you to view your costs at a menu item level and then drill down to your current recipe setup and the further still to the current price and price history of every stock item within your menu.
Our food cost formula helps show you the actual food cost percentage of your menu and assists when setting pricing to ensure you cover your hospitality expenses and ensure your business thrives financially.
Here are our tips on how to master food costing in your bar, pub, cafe or restaurant.
What is Food Costing?
Food costing is the cost of your ingredients, sometimes known as your food inventory, versus the revenue those ingredients generate when the menu items are sold, known as your food sales.
Calculating restaurant food costs and understanding your food cost percentage is one of the most vital ways you can boost profit in a restaurant, bar or cafe.
The average restaurant's food cost percentage is between 30% and 38% of total food sales. In an outlet with poor performing food costs this can be as high as 45%, which is often the difference between a hospitality outlet producing a healthy profit rather than a hefty loss. By controlling your food cost and understanding each of your menu items' food cost percentages, you can start working out where to save money and boost profitability without needing to attract new customers or generate extra revenue.
There is nothing worse than working hard, producing incredible food and not generating a profit. The good news is that food cost is manageable.
It all starts with some basic calculations and understanding some very basic food cost formulas.
Food cost per serving (Done.)
Actual food cost purchased
Total food cost
Food Cost Per Serving
Before you determine the price of the meals your restaurant is selling to customers, you should understand how much they cost to make.
Whilst providing menu items with high-quality ingredients at great, "affordable" prices will make customers happy it's likely that the balance of cost vs profitability, will be out of alignment and you will be going to great efforts for very little financial reward.
To understand your food cost per serving you need to get down into the detail and figure out both the quantity and value of each of the stock or inventory items contained within a dish that you will serve to a customer.
How to calculate your food cost per serving.
Pablo of Pablo's Pitas wants to determine his famous Pita cost per serving. The dish consists of 50g of chicken, 1 pita bread, 1 tablespoon of sauce, 2 slices of cheese, 2 slices of tomatoes, and 8 olives.
Pablo buys his ingredients in bulk and pays $35 for 5 kilos of chicken. He calculates that 50g of chicken for a single pita costs his restaurant $3.50. He continues costing out the rest of the items in the same way,
50g of chicken = $3.50
1 Pita = $0.20
1 tbsp. of sauce = $0.10
2 slices of cheese = $0.85
2 slices of tomatoes = $0.80
8 olives = $0.65
To calculate your food cost per serving (or food cost per menu item), find the sum of the ingredient cost per serving.
Cost per serving = $3.50 + $0.20 + $0.10 + $0.85 + $0.80 + $0.65 = $6.10.
A great place to start with improving your food costs is to first understand what percentage of cost vs revenue you are achieving across your top 10 selling food dishes.
Food Cost Per Serving Formula
The total cost of each ingredient used to make one serving of a dish that you will sell to a customer.
Actual Food Cost Purchased
The next step after you have priced out your menu based on the correct food cost per serving formula, is to track the food purchases you make as a percentage of your total food sales.
Tracking the food purchases in your bar, restaurant or cafe will start to show you whether some people responsible for ordering in your venue are ordering too much stock based on the amount of food or kitchen sales you are going to make in the upcoming day, week or month.
If over time you start to see that your food cost purchased is rising as a percentage of sales, this might be an indication that your are starting to build excess amounts of inventory or that you are seeing an increase in the amount of wastage, shrinkage or discounting happening in your business, which means you really need to start the next step of stock taking so that you can start to calculate your Total Food Cost.
Actual Food Cost Purchased Formula
The Total Food Purchased made over a period
---
Divided by the Total Food Sales made over the exact same period
Total Food Cost
The total Food cost percentage is the value of total food costs versus revenue, which is shown as a percentage. It's more accurate than simply tracking total food purchases, because it also allows for whether the food stock you have on hand has increased or decreased over the reporting period you are looking at.
A common misconception about food cost percentages is that every hospitality business should target the same total food cost for their business. In reality, a healthy percentage varies greatly depending on the type of venue you operate, the products you sell, and the market you serve.
As part of Loaded's features, there is an automated food cost calculator to calculate food cost per serving and your total food costs. This makes it very simple to see your costs on a real time basis.
Here is the basic data you need to calculate your businesses Total Food Cost formula.
This information is generally completed over a week or a month so you have accurate actual food costs for a weekly or monthly period of trade in your business.
Opening inventory value
Purchases made over the period
Closing inventory value
Total food sales
Calculate your food cost percentage by adding the value of your beginning inventory and all purchases made over the period and then subtracting the value of your closing inventory
Then, divide the result by your total food sales.
Total Food Cost Percentage Formula
(Opening Inventory + Purchases made over period) - Closing Inventory
---
Divided by the Total Food Sales
Whether you own or manage a hospitality business, knowing your restaurant's food cost percentage will help you fine tune and improve your menu profitability. It will help you understand whether you need to review the ingredients you are using, the portion sizes are right for the prices you are charging or whether you need to consider shopping around for better prices from suppliers.
Total Food Cost - How Loaded Can Help
As described above the total food cost usage is the value of the food stock that you have used over any given period.
Calculating your actual food cost requires an accurate opening and closing stock count. Most stocktaking methods are tedious at best. It's time-consuming. But technology and automation can now step in to help!
Loaded can help you set up effective processes to make stocktaking quick and easy for your hospitality business.
You complete your stock count digitally and tie your entire stock management system together with its stocktaking and analysis reports. Book a demo with Loaded and get a feel of the system first hand.
Why Use Food Cost Software for Hospitality?
Menu & Food Costings by serving and in Total should be clearly visible for every hospitality manager or owner who wants to manage a profitable business.
Clear Margin Analysis
Food Cost Software can track costs v sales clearly and simply. It can allow a restaurant owner to easily navigate between day-by-day sales, menu items sold and purchase orders received to allow you to pinpoint areas of concern between your cost of goods and your revenue.
Food costing software integrated with your POS system will give you clear financial information that allow you to build, engineer and monitor your menu on an ongoing basis so that it can constantly be tweaked and improved to supercharge your overall margins. You'll be able to focus not just on what is selling well but what is contributing profitability to your hospitality business.
Better Stock Management
Software built to include food costing enables you to make the right inventory management decisions, understanding things like how much to order based on the cost of the goods within each of your recipe items and when to order more stock based on how much you expect to sell.
Using a flexible inventory management system that can break your menu down and provide the total orders and sales by item along with the margin achieved and the prices you are paying for the underlying stock items will give you visibility and transparency of your business you never thought was possible.
How to Get the Most Accurate Food Costing
Reliable food costings can only be accurate if you are tracking stock correctly. If you are not tracking increases in your cost of goods, sales discounts or stock wastage, you may assume your initial menu calculations mean you are tracking towards profit, only to be surprised at the end of the month when your actual results are significantly inferior to what you expected.
Stocktaking
Taking accurate, regular counts of your stock holdings can allow you to pinpoint issues with wastage, theft or inaccurate portion control.
Using Loaded cloud-based inventory software can help enable your team to execute quick, simple stocktakes that can ensure the amount of each item in your inventory is correct and this ensures your actual cost of goods reporting is always accurate.
You need to make sure all of your stock items have been received prior to starting a stocktake. If your received goods are not correct, then there is no way that you will be able to get an accurate cost of goods value for the period of your stocktake report.
Order Management
By ensuring that all purchase orders are ordered and received correctly, and your current stock item pricing is accurately reflected in your hospitality management system you can ensure that your cost of goods per item is accurate on a real time basis. This is especially important with seasonal items that may fluctuate in price significantly.
Loaded Can Help You Manage Your Food Costing
Knowing your bar, cafe or restaurant food costs assists you with menu pricing, tracking your prime costs, and hitting profitability targets. Food cost management is important particularly given current hospitality industry challenges, such as inflation, supply chain struggles, and labour shortages.
Connect the Loaded Hub to your existing Point Of Sale (POS) System to gain maximum control of your food costs, menu margins and business profitability.
Start your free 30-day trial today! Simply sign up here and you are away.
What are the Business Benefits of Calculating Food Costs?
Effective food costing can send your business growth in the right direction.
It leads to better management, less financial stress and a clearer picture of your current performance.
The run-on effects of good cost management are:
You Are Smarter with Your Spending
By chasing an ideal restaurant food cost percentage, you can use budgeting, and supply negotiating to spend smarter and to drive more profitability for your hospitality business. By setting targets for your ideal food cost percentage, you can over time adjust the menu to work towards better performance and improved prfoitability.
You Are More Efficient with Menu Costing
With food cost percentage data integrated into your restaurant POS system, you can cost items quickly, quote for catered events, and create specials that you can afford to run. You can engineer your menu based on the food cost percentage formula.
You Can Improve Profit Margins
You are not operating blindly, you are in full control of the cost and output of your business. By using inventory management systems and smart stocktaking software, you could deliver an 8% reduction in your cost of goods and help improve your profit margins.
You Can Craft a Well-Balanced Menu
By using food cost software, you can see where you order the most, the items that your team are ordering and those that are costing you too much related to their sales. You can amend your menu design using the software to cost out ideas and decrease the amount of waste your business may produce.
Pick the Best Food Costing App for Hospitality
Understand your financials, streamline all processes and improve your business with the right integration into your system.
Flexible stocktaking to allow full stocktakes right down to single problem items.
Add bulk recipes and individual stock areas to each stocktake as required.
Analyse wastage per item with full tracking of inwards and calculated usage.
Understand the effect discounting is having on your margins.
Restaurant Food Cost & Hospitality Management Software to Help You Maximise Your Business.
We know your passion is not in crunching numbers, so we have the solution for you. Get back to what you love doing with Loaded Reports, the all-in-one hospitality management software.
Loaded has been designed by hospitality experts for hospitality leaders to save you time and money AND the stress of having to do it all yourself! We aim to help you increase profitability and reduce the manual, time-consuming work that takes you away from growing your restaurant, bar, or cafe.
Loaded will help you:
✔️ Calculate food cost percentage
✔️ Manage your inventory
✔️ Stocktake
✔️ Order management from the kitchen to the supplier
✔️ Create staff rosters and schedules
✔️ Cashup & reconciliation
✔️ Analyse your business with simple dashboards, reporting & budgeting
✔️ And more
Find out how we can help you by booking a demo with our team.
It's a 30-day trial, so the only thing you'll lose is a few less of those grey hairs.
Get Regular Hospo Best Practice Advice
Practical content from leading hospitality operators delivered to your inbox