Buying well is one of the fundamental components of improving the margin in your bar, restaurant or cafe.
Are you paying the best price for your stock items?
We are yet to work with a business who couldn't save at least 3% on their cost of goods through implementing a tender process and entering into contract prices with their suppliers.
Margins can make or break a hospitality business. Good gross profit margins can turn a good business into a great business and poor margins can take a good business to becoming a very poor performer. There are plenty of complicated factors that can make achieving a low cost of goods hard work, fortunately the price you buy at, doesn't need to be one of them.
Putting your supply contracts out to tender is an extension of a simple concept;
Suppliers benefit from selling more volume, and restaurant and bar owners benefit from better pricing. When you put (for example) your supply of dry goods for the next twelve months out to tender, you're offering a promise: I'll buy this volume of food from you and only you for a year, if you guarantee me this pricing. It gives the supplier certainty and should give your business much better pricing.
Let's get started!
1. Create a list of the stock items you would like to tender.
It is generally wise to start with the items that you are spending the most money on, you can do this by reviewing the Orders by Item report in Loaded Reports, or if you are not using Loaded you should be able to get this information out of your point of sale system or by reviewing invoices from each of your suppliers over the last month.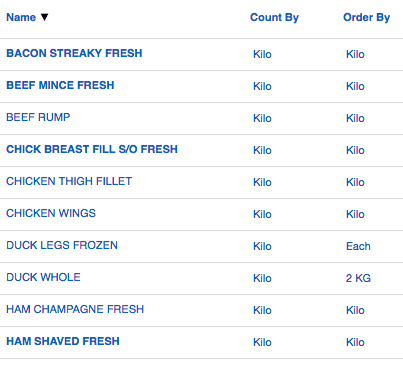 2. Calculate the purchase quantity of each stock item you are going to tender.
For the suppliers to make a decision on the pricing they can provide you, they need to know approximately how much you're going to be buying from them. Again we use Loaded for this - if you've been receiving your invoices accurately you can look at exactly what you've ordered and received over any given time period. If you don't have Loaded, or haven't been paying invoices through that or another stock system, you'll need to tally your stock usage. If your business isn't too drastically affected by the seasons, you can probably add together the last three months and multiply the amounts by two to get six months worth. It might seem a lot of work to go back through your invoices and tally this up but trust me it will be worth it when you start paying less.
| | | |
| --- | --- | --- |
| Product | Unit | Quantity |
| Avocado Pulp | 454 Gram | 4360.2 |
| Breadcrumbs Panko | kg | 396.5 |
| Beetroot & Horipito Chutney | kg | 282.1 |
| Beetroot Slices | A10 | 937.3 |
| Corn Chip natural round | kg | 217.1 |
| Cracker plain water | 125g | 222.3 |
| Chocolate dark | kg | 48.1 |
3. Generate a list of the expectations and standards a supplier will be required to meet.
It's important that you set the expectations of supply when you send your tender document out to the suppliers, anything that is important to the smooth running of your business should be included.
Examples might include;
All goods must be able to be ordered after 10pm and delivered before 11am each day, seven days per week.

All orders must be able to be received from our Loaded Reports ordering system.

Any substitute items due to out of stock must be able to be provided at the original items price.

Payment terms will be 20th of the month following invoice.
4. Generate a tender document and send to suppliers.
Once you've got a list of items and how much you expect to use over the period as well as a list of your expectations you can go to suppliers. It's best to send a cover letter with some background information on your business, and an invitation to provide a tender to exclusively supply you in a certain category and a time and date that the tender will close.
The categories we recommend you break your tenders down into are and the time period provided are;
Beer

Wine

Spirits

Protein/Meats

Dry Goods

Frozen Goods

Fresh fruit and Vegetables
On the next page, include a table of the items you'll buy, the quantities of each, and a blank space for the supplier to provide their pricing:
| | | | |
| --- | --- | --- | --- |
| Product | Unit | Quantity | Price |
| AVOCADO PULP | 454 Gram | 4360.2 | |
| BREADCRUMBS PANKO | kg | 396.5 | |
| BEETROOT & HORIPITO CHUTNEY | kg | 282.1 | |
| BEETROOT SLICES | A10 | 937.3 | |
| CORN CHIP NATURAL ROUND | kg | 217.1 | |
| CRACKER PLAIN WATER B/S | 125g | 222.3 | |
| CHOCOLATE DARK | kg | 48.1 | |
Send this document ("Request for Pricing" or "RFP") to at least two suppliers, but ideally three. They'll come back with their best pricing. What you're after overall is the lowest total Cost of Goods for the period, so rather than focus on which supplier is offering better pricing for individual items, multiply the unit prices by the volume you predicted to get your total spend with that supplier - whichever supplier has provided the best pricing overall will give you the lowest total spend:

5) Make a coffee and wait for your suppliers to return their tender documents, then you can make comparisons between each supplier.
| | | | | | | |
| --- | --- | --- | --- | --- | --- | --- |
| Product | Unit | Quantity | Supplier 1 | Supplier 1total | Supplier 2 | Supplier 2 total |
| AVOCADO PULP | 454 Gram | 4360.2 | $4.5 | $19,620.90 | $4.75 | $20,710.95 |
| BREADCRUMBS PANKO | kg | 396.5 | $10 | $3,965.00 | $9.00 | $3,568.50 |
| BEETROOT & HORIPITO CHUTNEY | kg | 282.1 | $6.00 | $1,692.60 | $6.00 | $1,692.60 |
| Total | | | | $25,278.50 | | $25,972.05 |
*Notice here that although Supplier 2 priced lower for two items, they were more expensive overall, and the example site saved $700.
You can now make a decision on which supplier you would like to use, of course it doesn't have to be all about price there may be certain details in the service and quality of one supplier that you prefer over the cheaper supplier, but at least you are now making a quantifiable decision for your business.
6. Enter into a supply agreement with the supplier.
Once you've found which supplier has the best pricing for you, it pays to get something in writing. A basic supply agreement should contain the term of the contract, the pricing agreed on, and an agreement to purchase all of the products in the category that you've put out to tender to only the one supplier for the length of the term, so long as they meet the expectations of supply that you have provided them.
7. Congratulations, you're now all most certainly paying less for your Stock Items.
Now you need to Monitor the prices you are being charged to make sure you are only paying what you should be.
It's really important that you then monitor the prices you are being charged match the prices you have agreed with your suppliers.
Loaded has a tender report where you can compare what you have been paying in comparison with the prices your are meant to be paying as part of your contract. If there is a variation you can then provide this to your supplier and ask for the appropriate credits to be applied to your account.
Get Regular Hospo Best Practice Advice
Practical content from leading hospitality operators delivered to your inbox