The manner in which you create and manage recipes in your hospitality business, will have a strong correlation with the overall financial success and sustainability of your venue or group of venues. A recipe starts as a creative process where you pour your heart and soul into combining raw ingredients in a way that your customers are going to love and ends as an organisational system that means your menu items and customer dishes can be produced the same way every time, using the amount of ingredients you expect to.
Accurate recipes allow you to calculate and control your food costs and the gross profit margin of your menu items. For multi-site groups recipe management ensures you can produce consistent menus across all sites so that each dish is made the same way, every time no matter who is responsible for the preparation.
To make it easier for hospitality owners and managers to understand their food and drink costs, recipe management is incorporated into software called a recipe management system. A recipe management system allows standardisation of recipe building and management. It helps chefs purchase ingredients at agreed prices, and enables kitchen managers to monitor their inventory in real time and analyse their profit margins against their actual sales as they are happening.
What is a Recipe Management System?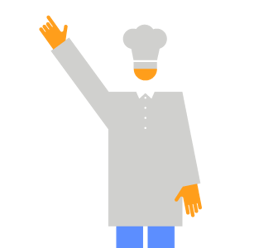 A Recipe Management system is generally incorporated into a full Hospitality Management software package. It's used to store, manage and cost recipes. The software makes it easy for restaurant owners and chefs to analyse the current cost of recipe's on their menus. A new dish on your menu can be itemised using real-time ingredient costs pulled from your current stock on hand to calculate the initial profitability of each recipe and then allows you to track any changes to underlying costs or margins as stock is received at the latest prices you have been charged from suppliers.
A quality recipe management system also enables ingredient tracking, as the correct amount of ingredients can be calculated and ordered when required, helping to reduce food waste significantly.
Implementing a recipe management system can be a game changer for any foodservice business. It helps you save time, improve efficiency, reduce costs, increase profits, and improve food quality and consistency.
How does a Recipe Management System Organise Recipes?
A recipe management system will store your recipes in a systemised catalogue. You can add your own recipes, edit them and categorise them into menus.
Recipe management software allows recipes to be updated easily. You can add or remove ingredients, adjust their quantities, and then enjoy seeing the costs automatically adjust based on the current stock pricing.
Inventory Ordering and Purchasing Made Easy
With advances in technology, the recipe management system within Hospitality Management Software can now also link up with your company's Point of Sale (POS) software.
The reports generated from this are able to let you know what's selling well and what is not and even more importantly what is profitable and what's not.
This is powerful stuff and super valuable when it comes to growing your business efficiently.
Examples of these reports are:
Ingredient Level Price Tracking
Menu Cost Estimation
Recipe Cost Estimation and Updates
Live COGs Reports
Gross Profit Reports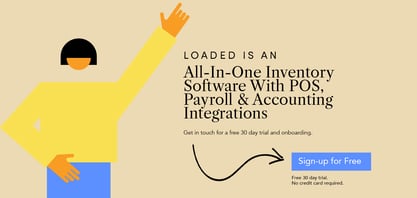 Real-Time Inventory and Purchasing Reduce Costs
Imagine a world where your inventory management system is so precise that you know exactly what you need to order, when and how much.
Loaded helps chefs and restaurant owners manage their ingredients with real-time data, as a result they have less waste and improved quality and consistency of recipes. Companies that have implemented Loaded have seen an increase in profitability of up to 220% while reducing the time spent on manual and admin tasks. With true control of your food costs you can expect to reduce your Cost of Goods by approximately 25%.
Loaded allows you to link your recipe ingredients to your supplier's price in realtime. Once you link your ingredient to your supplier's price, you will never have to worry about having outdated prices again.
We designed the Loaded Hub to help you manage your finances easier and faster. When you can track your expenses in real-time, you can rest easy knowing that your hospitality business is running seamlessly.
As hospitality experts, we created Loaded to reconcile actual revenue to accounting systems to stamp out theft and shrinkage straightaway.
Make informed decisions and manage your business more effectively with the help of Loaded. Start your free 30 day trial today!
What Are the Benefits of Using Recipe Management Systems?
Consistency for Customers
Customers who are returning to your restaurant would expect their favourite meal to look and taste the same every time, if not better!
Recipe Management software ensures consistency across all of your sites for everything you produce by listing ingredients, quantities, methodololgy, photos and videos.
As long as the chef does not deviate from what is listed in the system, the customer can expect the same amazing experience every time.
If your restaurant has multiple locations, it's likely that each one will have similar menu items and ingredients. A recipe management system makes it easy to ensure that every location offers the same menu items and ingredients so customers get consistent service no matter where they dine with you.
Recipe management software allows you to improve the experience you provide your customers by providing accurate information about menu items which allows staff members to respond quickly when customers ask questions about ingredients or allergens in foods.
Reducing Food Costs
A recipe management system can reduce food costs by giving you clear visibility over your total input cost and your margins based on the price you are also selling your menu items for. You can see very easily once you have your current inwards goods cost how much your recipes and menu items are costing you in real time.
This is important information allowing you to calculate your recipe ingredient cost and adjust these as the prices of the underlying raw stock items in your recipes change. If an ingredient is not in season or is pricier than usual, the ingredient can potentially be switched out for a cost effective alternative or you can make the decision to discontinue the menu item and replace it with something new.
A good recipe management system will help you reduce your overall food costs by providing a way to automatically track item usage, while also ensuring that you have information so that you can buy the appropriate amount of ingredients based on your expected upcoming sales.
As the correct amount of ingredients are purchased each time, food waste is significantly reduced.
Eliminate Manu
al Data Entry
Recipe management software minimises manual data entry tasks and improves workflow processes, reduces time taken to calculate costs and ensures no data errors fall through the cracks. As manual data entry is reduced, the chances of you entering incorrect recipe data decreases. This is helpful when you are entering and maintaining a large number of recipe entries.
Restaurant owners and chefs shouldn't be spending their precious time on repetitive data entry to maintain real-time reports and information.
There's far more profitable work they can be doing, which they'll also no doubt enjoy a whole lot more!
Improve Food Quality
Using a recipe management system can improve food quality by allowing you to easily tweak recipes without having to make major changes all at once. This means if something isn't quite working out for you in terms of taste or texture (or anything else), then all it takes is one click within the software program before trying something else out instead.
Let's Chefs Do What They Do Best
Chefs spend a lot of time planning menus, shopping for ingredients and running orders through supplier systems. These tasks are vital to a restaurant's success however they are still being done manually by many restaurants.
By outsourcing these tasks to software, chefs spend less time dealing with admin and spend more time on what matters: cooking great food and running a great team.
Accountability significantly increases when the kitchen team has a standardised catalogue of recipes to work from and a consistent way in which to order from every supplier.

Why do Restaurants Traditionally Struggle with Recipe Management?
If you're a restaurant owner, you know how hard it is to create a simple system that keeps your recipes up to date. Your chefs are great at developing and producing food, but find it hard to spend time doing admin or sitting at a computer entering data. Most restaurants don't have the time or resources to develop their own systems and many restaurant owners would not have considered looking for a recipe management system.
Difficult to Do Manually

Traditional recipe management in spreadsheets is time-consuming, error prone and requires a lot of training for new staff. Think about all the ingredients that need to be entered for the recipes on your menu, as well as the time calculating down to the single measurement the cost of a single recipe item. Now imagine doing all of this by hand and updating a recipe when an ingredient is changed. It's a lot of work!
Invoicing
Getting real-time accurate cost of goods (COGS) comes from maintaining good inventory management practices. Having current COGS in your stock calculations from your recently received invoices is key to understanding how much each menu item is costing you.
Collecting, maintaining and filing paper invoices is not time efficient, especially in the whirlwind of a busy restaurant. Paper invoices can be lost, damaged or dirtied in a kitchen environment. The restaurant owner then has to sit down with their week's worth of invoices and manually enter these one by one. If you are busy running a restaurant, entering invoices into a database becomes the lowest priority.
Lack of Time
Let's face it, restaurant owners and chefs barely have enough time to do what they're already doing, let alone the time to maintain recipe's manually. Recipe management typically falls to the bottom of the to do list in favour of customer facing tasks.
How Can the Right Recipe Management Software Save You Time and Money
Once you've taken the time to set yourself and your team up for success you will be able to easily track food costs, menu pricing and assess your inventory utilising recipe management software. You will be able to review the profitability of your menu items and make sure that you are not losing money.

Decreasing your Cost of Goods
If you are looking to decrease your Cost of Goods and increase the profitability of your menu, a recipe management system will give you the right information to make these decisions.
Loaded brings together your recipe management, ordering and receiving of stock, your menu and margin analysis, your stocktaking, and all of your reporting to bring down your Cost of Goods.
The software even exports out to your accounting system so your cost of goods always lines up with your financials.
There are case studies of Loaded customers who have decreased their cost of goods by 25% using Loaded, resulting in over $200,000 of increased net profit.
Saving you Time
Recipe management software is now able to cover a lot of the tedious, manual and repetitive tasks that restaurant owners and chefs would usually have to complete on a weekly basis. Updating recipes, ordering ingredients, calculating menu costs and working out restaurant profits are an example of these.
As time spent on these activities is significantly reduced, restaurant owners can focus their attention on other more profitable aspects of the business and chefs can focus on creating inspiring menus. Time is money after all.
What Should You Look For in a Recipe Management Tool?
Here are some tips on what to look for in your Recipe Management tool:
Cloud-based so that all data is backed up automatically and accessible from anywhere.
Linked to your Point of Sale (POS), so you also know how much of a recipe you are selling and at what price.
Able to make orders directly to your suppliers so you always have up to date recipe pricing.
They offer training and support to help set up your system
Easy-to-use and understand for all of your team
A system that allows you to create recipes from scratch.
Many Recipe management systems sometimes offer free trials before you are required to purchase. This is a great way to see if the tool suits your business and operations.
Loaded is offering a 30 day free trial today with no credit card required! Give it a go, you won't regret it.
Why you need Recipe Management
If you're starting a new food service business or looking for ways to improve your current one, investing in a recipe management system might be just the thing you need to take your business to the next level.
Loaded is an all-in-one Hospitality management software that includes a powerful recipe management system and much, much more.
Over 10,000 businesses like yours are using Loaded to decrease their Costs of Goods and increase their profits - why don't you join them?
Reach out to us today for a free 30 day trial, no credit card required!
Get Regular Hospo Best Practice Advice
Practical content from leading hospitality operators delivered to your inbox